中
Phenyltris(methylethylketoximio)silane RJ-POS
Description
Description
Chemical name:Phenyltris(methylethylketoximio)silane
CAS NO. : 34036-80-1
Molecular Formula: C18H29N3O3Si
Chemical structure: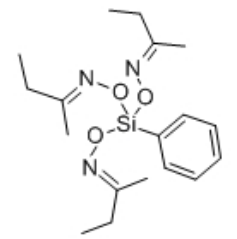 Silane RJ-POS is clear and yellowish or colorless liquid with a typical smell (MEKO).
Technical Index
Property

Specification

Physical Form

Colorless to light yellow

transparent liquid

Density at 25℃

0.995g/ml

Boiling point at 760mmHg

63℃

Flash point

90℃

Purity, %

Min 90.0

Refractive index (25℃)

1.503
Application
This product can be used in variety of applications, including:
Used in silicone sealant
Allow the skilled formulator to develop low modulus sealants with high movement capability
Provide improved tear-resistance and heat-resistance.
Extended tooling times can be achieved without jeopardizing crack-resistance
Packing
Silane RJ-POS is available in 190kg steel drums, 950kg IBC drums, or other packing on request.