中
Tetra(methylethylketoxime)silane RJ-TOS
Description
Description
Chemical name:Tetra(methylethylketoxime)silane
Molecular Formula: C16H32N4O4Si
Chemical structure: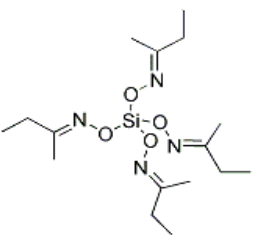 Silane RJ-TOS is clear and yellowish or colorless liquid with a typical smell (MEKO).
Technical Index
Property

Specification

TOS %wt

10%; 20%; 30%; 40%;

anyproportionis available according to customer's requirement

MOS %wt

90%; 80%; 70%; 60%;

Total Low Boilers %wt

3.0% max

Total High Boilers %wt

3.0% max

Color(APHA)

50 max

Molecular Weights %wt

372.5

CAS NO

34206-40-1





Application
This product can be used in variety of applications, including:
Silicone sealant RJ-TOS is used as a neutral curing agent in silicone sealant formulations.
Normally,RJ-TOS will be combined with MOS or VOS to achieve higher reactivity, shorter skin formation times and higher crosslinking density.
RJ-TOS can extended tooling times without jeopardizing crack-resistance in silicone sealant.
Packing
Silane RJ-TOS is available in 200kgs Iron Drum; 1000kgs IBC Drum, or other packing on request.