中
3-Aminopropyldiethoxymethylsilane RJ-902
Description
Chemical name:3-Aminopropyldiethoxymethylsilane
Molecular Formula: C8H21NO2Si
Chemical structure: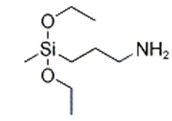 Silane RJ-902 is colorless transparent liquid. It soluble in water(with reaction), alcohol and aromatic and aliphatic hydrocarbons. Ketones are not recommended as diluents.
Technical Index
Property
Specification

Physical Form

Clear liquid

Density (g/cm3, 2

0

°C)

0.9160±0.005

Refractive index (25°C)

1.4270±0.005

Purity, %

Min 9

7.0

Molecular Weight

191.34

CAS NO.

3179-76-8
Application
This product can be used in variety of applications, including:
Silane RJ-902 can be used in variety of applications, including:
Paints and coatings
Improve adhesion to the substrate, especially glass and metal
Improve moisture and corrosion resistance.
Unsaturated polyester composites
Improve mechanical properties of the composite, like flexural strength, modulus of elasticity.
Suitable for cold curing phenolic, furan casting resin and so on.
Sealant and Adhesive
Improve adhesion
Used in organic, polyurethane, epoxy and phenolic resin adhesive and sealant.
Mineral filled composites
Pretreatment of fillers and pigments
Improve the adhesion between inorganic stuffing, base material and resin
Textile
Raw material for amino-type modified silicone oil and many kinds of silicone type super soft finishing agent.
Improve the affinity to fabric, and make fabric super soft, smooth, well drape, antistatic, and resistant to washing and crinkle.
Packing
200kg Iron Drum or 1000kg IBC